Happy Friday!!
I hope everyone has had a fantastic week and is looking forward to the weekend. This week's review is on a release that's been out for a while, but it actually encompasses three movies; Fear Street: 1994, Fear Street: 1978, and Fear Street: 1666. So here we go.
Why did I choose these movies? Well, my daughter had already watched them and wanted to rewatch them with me. She really enjoyed the movies, and although I don't really care for slasher/jump scare movies, she said these weren't too bad. I did grow up in the Friday the 13th and Nightmare on Elm Street era, and I agree that this trilogy is slasher light. There weren't a ton of jump scares, and the gore was somewhat lighter than a true slasher, but there were definitely some gory scenes. It just wasn't as much as the aforementioned movies.
Let's start out with some quick highlights of what I really liked about this trilogy. The movie posters are consistent with each other and visually appealing. Also, the set had a solid, overarching storyline that actually ended up way more wholesome than I expected. The films have quite a few call backs and references to the older films of the genre, including actually filming the 1978 years on the same location as one of the Friday the 13th movies, which I think is a neat little easter egg. I think they did a decent job in capturing the essence of the original slasher.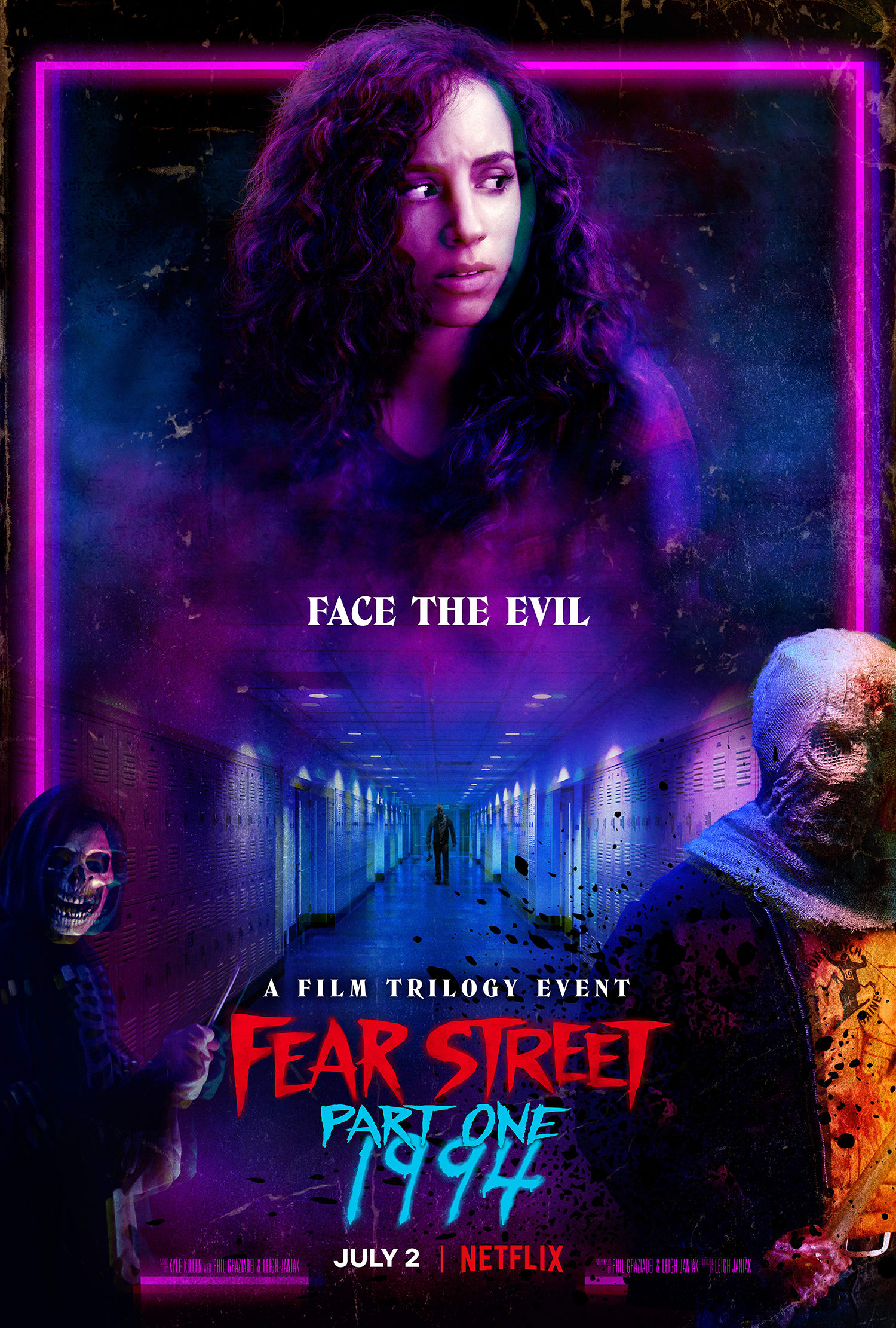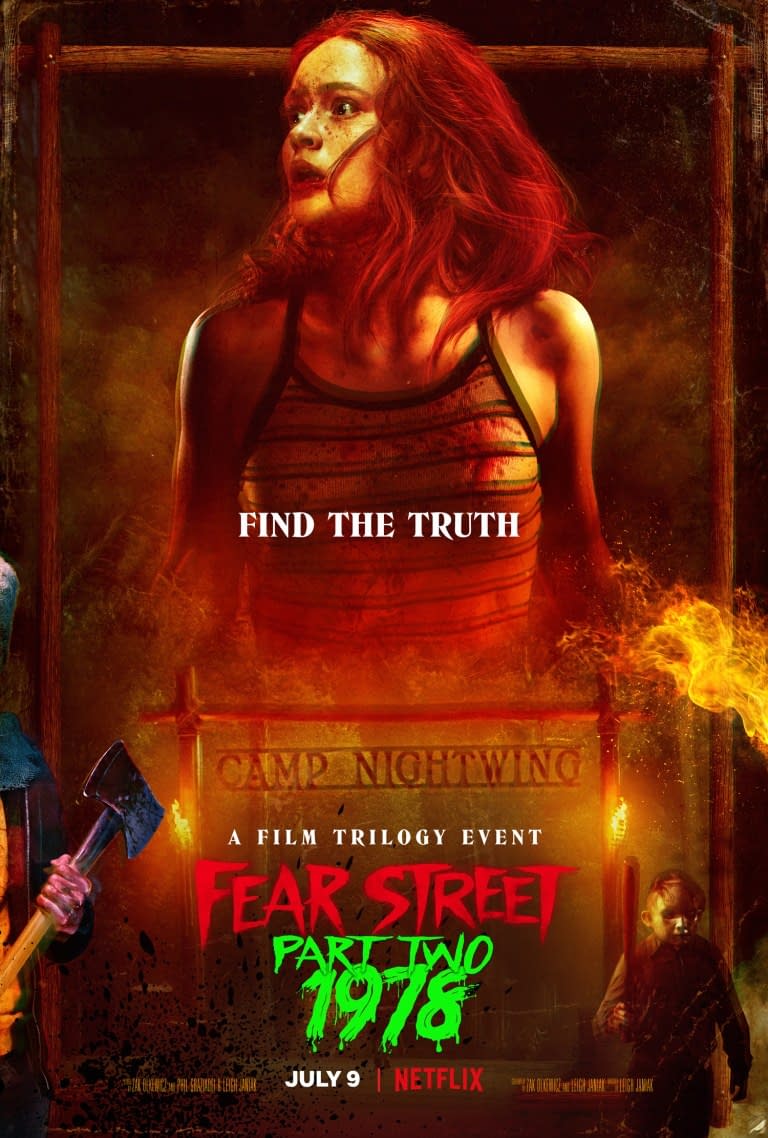 Now on to the individual movies. For the most part, I enjoyed the different time periods the movies explored. However, the 90s were my time. I spent the early 90s in high school and have to say that some of the depictions were not accurate. Also, the music, although great songs, were hit and miss. For instance, "Only Happy When It Rains" came out in 1995. I was there. I remember. That wasn't the only one. There were so many great songs that came out early 90s that could have been used if they really wanted to keep things historically accurate, but with that being said, the soundtrack is still amazing.
Part One – 1994 has some nice Scream vibes going for it, especially the opening scene which mirrors Drew Barrymore's performance. However, this time the part is played by Maya Hawke, who is the first Stranger Things actor we'll see. It doesn't take long to realize that the occult is involved with the Shadyside killings and just general bad luck that plagues the Shadysiders. This movie, although it follows a lot of tropes for the genre, pretty much just sets up the plot for the next two movies and results in way more questions than answers by the end. I immediately went on to the next movie as soon as the first one ended.
Part Two – 1978 is the Friday the 13th installment, which stars Sadie Sink, who basically plays the same role as she does in Stranger Things, but it fits. The setup for part two starts when the teens hunt down a survivor from a camp massacre, C. Berman, played by Gillian Jacobs. I think the writers really tried to make it a mystery as to who the actual C. Berman was, Sadie Sink or Emily Rudd, but they fall pretty far from that mark. Throwing in so many red herrings just makes it too obvious. Aside from that, I do think Part Two was my favorite. Again, it ends on a cliffhanger that had me watching Part Three the same day.
Part Three – 1666 takes us back to where the story first started. At this point, I can't even begin to point out any inaccuracies to the time period, so I was just going with the flow. There are a few points where some characters lost their accents that I giggled about, and aside from learning the origin of the story, this was my least favorite of the time periods explored. However, it did fit into the overall story and pulled everything together. The story made sense by the end and answered all the building questions and gave us a nice happy ending.
Overall, I would say these movies fell on the better side of the mediocre range, but I have a feeling that hardcore fans of slasher films won't care for these much. However, I was not a reader of Goosebumps or Fear Street, so I might not be the target audience of the movies. My daughter couldn't get enough of Goosebumps and Fear Street while she was growing up, and she absolutely loved these movies.
To prove this point, she gasped at the end of the movie as the credits rolled and yelled, "Did that just say R.L. Stine!?"
Yes, my daughter, a huge Goosebumps fan, watched all 3 movies all the way through once, and then asked if I would sit down and watch them with her again, and never once realized these were based of the novels she read as a child. I think that is a pretty good indication that fans of Fear Street, or at least that style, would like these movies as this captured my daughter's interest without her even knowing they were connected. I have to give them props for hitting their target audience.
Well, this post stretched on a lot longer than I expected, but then again, it was three movies. I think it's time to wrap it up, though.
A quick update on current projects.
Frequency is now available in paperback, and this book is THICC.
Haven (originally titled Dreamland – Part Two) is now available at B&N and Apple Books for the first time!
And I am fully immersed in the Westgate draft. This is what I'll be working on and will hopefully have the complete first draft ready by next quarter. This will most likely be the biggest book of the series so far, and it has some scenes in it that have been in my head for a long time. So excited.
Until next week, I hope everyone had a lovely weekend and Happy Reading!